Do you have any odd shaped cabinets or cupboards that don't utilize the space as well as they should?  Are you on the look-out for creative storage solutions you can integrate into your own home?
Here are 3 Different Roll Out Shelving Solutions You Might Not Know About
1.  Undersink Kitchen and Bathroom Drawers
Every home has at least one kitchen and one bathroom, each including it's own sink usually with a cabinet underneath.  This means if you have a kitchen or a bathroom in your home, you're wasting good storage space right now!  Due to the presence of plumbing pipes under sink storage areas are not the easiest space to organize nor is it easy to maximize the storage space with all the piping and a sink in place.
To say it bluntly, undersink cabinets and cupboards are a challenge to organize!
This is why undersink roll-out shelves exist!  They allow you to fully utilize the space under your sink by having a notch built-in, or smaller shelves to clear the piping or the sink.  If you've got more than one bathroom in your home, roll out shelves for under the sinks would be an excellent storage upgrade.
2.  Garbage and Trash Can Drawers
For many households, the garbage can is either located underneath the kitchen sink or within fairly close proximity to the kitchen sink.
When items are getting tossed under the sink they aren't always making it into the trash can (especially if you have little ones!) and it leaves quite a mess for someone else to clean-up, usually on their hands-and-knees as it's a difficult to reach space.
With a roll out shelving solution for the trash can, it will be easily accessible and the trash can can be slide out, over your kitchen floor while garbage is thrown in.  This helps keep things clean under the kitchen sink.
3.  Roll Out Shelves For Pots and Pans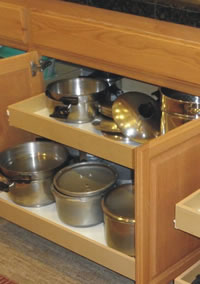 Organizing pots and pans is always a challenge, and even then it's usually a game of carefully stacking everything so it fits.  Whenever you need something you find yourself going through the stack, or reaching way into the back of the cupboard just for that one, special item.
We make roll out shelving and drawers that are strong enough to handle the heavy load from pots and pans and cookware.  They can even be customized with special dividers and compartments so you can have a place for everything!
As you can see, there are a variety of different roll out shelf storage solutions that can be used in any kind of cabinet or cupboard to help you better utilize the space and make it more convenient when you need to grab something from under the counter.
Why Choose The Drawer Guy For Your Custom Roll Out Shelving?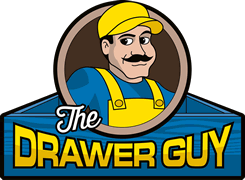 When you choose The Drawer Guy for a custom rolling shelving or drawers you're going to be getting a high quality and convenient storage solution that will meet your individual needs perfectly.
All Wood Construction
The Drawer Guy doesn't use any particle board or MDF in the construction of our rolling shelves and drawers.  Instead we use 100% clear (clear – meaning it has no knots – just the wood grain) Birch or Maple hardwood of the highest quality.
High Quality Drawer Runners (rollers)

We sell and install Blum hardware as an additional option for our custom shelving clients. These are the best drawer runners in the industry and they ensure that whether the drawers are fully loaded with pots and pans or empty, closed carefully or slammed shut with force, they will operate smoothly, quietly, and effortlessly every time for a very long time!
If you'd like to receive a consultation and estimate for a custom shelving and rolling drawer solution please call (339) 206-7000 or fill out our contact form and we'll get right back to you.