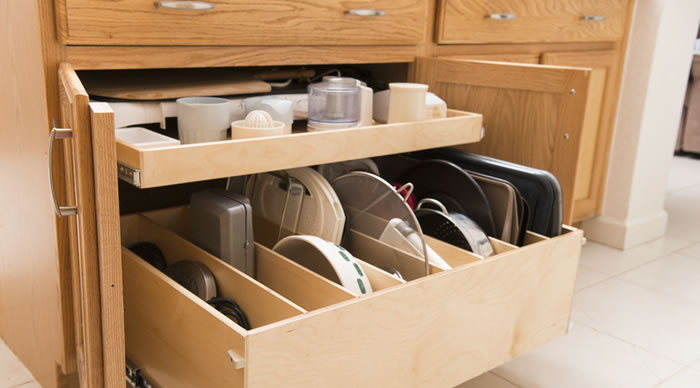 Are you remodeling a kitchen or bathroom?  Maybe building your own custom home?  Have you given much thought to how you're going to organize everything in your new space?  There are so many storage solutions available on the market today, but in order to appeal to a large enough market to sell successfully in big box stores and the like they need to make these solutions so they can make the crowds happy.  This doesn't always work for the homeowner who has cabinets or shelving needs that don't fit the norm.
Custom rolling shelves and drawer solutions can be added into any room in the home, almost any type of existing cabinetry or cupboards can be retro-fitted with a rolling shelf solution.  If you've been considered rolling shelves or custom drawers for your home, here are 5 more reasons you should consider them.
#1.  Tired Of Searching For Items
A common problem with standard cupboards and drawers is that everything is just crammed into wherever it will fit and as you move one item around, or bump another you are continually re-arranging your cupboard space.  Nobody enjoys having to bend over just to dig around in their cupboards looking for a specific pot or pan, tupperware lid, ingredient or other item that should be at their fingertips the moment they need it.
If you're tired of searching for items in your cabinets, drawers or cupboards then a rolling shelf solution would be a perfect addition to your kitchen remodel or even better for a new installation into your new construction home.
#2.  Maximizing Your Available Cabinet Space
Standard drawers and cupboards don't exactly maximize space in the best possible way, especially when you're storing items of different heights or widths in the same space.  There is storage gaps that are just "dead space".  What if you could have a storage solution that eliminated all that dead space in your cupboards?  Or how about adding storage somewhere like under the kitchen or bathroom sink, where plumbing and piping are commonly in the way?
Custom drawers can easily be made to fit in these difficult places such as underneath your kitchen or bathroom sink.  These drawers are custom built, after taking measurements of your space and they are built with a special notch in the back to get around your plumbing.
Rolling shelves and custom drawer solutions exist for any cabinetry, drawers or shelving in your home, there are many ingenious ways to take advantage of the empty spaces.
#3.  Improve Accessibility For People With Mobility Issues
If you or someone you love has mobility issues, has trouble bending over or cannot stand on stools or chairs (to reach high cupboards) then rolling shelves would be a good solution.  Common in "accessible" home design, organizational solutions such as rolling shelves make it easy for people with mobility issues to access the items they need without having to be a contortion artist or put themselves into positions that will hurt or worsen any conditions they might have.
#4.  More Enjoyment Out Of Your Home
When your kitchen, bathroom or other room in your home is well organized, you'll get more enjoyment out of it.  Nothing is worse than adding a few extra minutes onto every meal-time because you're digging around or re-arranging items in your cupboards!
The Drawer Guy works with our customers on an individual basis to come up with custom shelving and drawer solutions that will improve your daily life, make things easier for you.  We come to your home, listen to your needs, accurately measure your space and provide you with many different options.
#5.  Stay Organized For Your Hobbies and Crafts
Do you have an entire room of room of your home, a garage or a workshop devoted to your crafts or hobbies?  Custom shelving and organising solutions are an excellent way to stay organized and keep your work area clean and uncluttered.  Maybe it's a home based business that you operate?  In this case, your custom shelving could be a tax write off for your business (check with your account to make sure).
Why Choose The Drawer Guy For Your Custom Shelving and Drawer Solutions?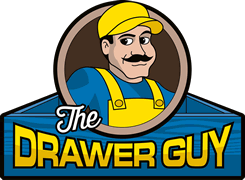 When you choose The Drawer Guy for a custom rolling shelving or drawers you're going to be getting a high quality and convenient storage solution that will meet your individual needs perfectly.
All Wood Construction
The Drawer Guy doesn't use any particle board or MDF in the construction of our rolling shelves and drawers.  Instead we use 100% clear (clear – meaning it has no knots – just the wood grain) Birch or Maple hardwood of the highest quality.
High Quality Drawer Runners (rollers)

We sell and install Blum hardware as an additional option for our custom shelving clients. These are the best drawer runners in the industry and they ensure that whether the drawers are fully loaded with pots and pans or empty, closed carefully or slammed shut with force, they will operate smoothly, quietly, and effortlessly every time for a very long time!
If you'd like to receive a consultation and estimate for a custom shelving and rolling drawer solution please call (339) 206-7000 or fill out our contact form and we'll get right back to you.