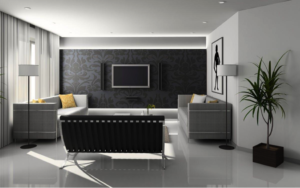 Contrary to its name, "downsizing" is a lifestyle trend that has many upsides in today's modern world. Sometimes referred to as decluttering, minimalism, or "living small," downsizing refers to reducing the number of items you own. People are drawn to this lifestyle for many reasons. For some, downsizing brings the opportunity to save money on rent and utilities (not to mention, saving time spent cleaning) by moving into a smaller and more energy-efficient space. For others, downsizing presents an eco-friendly option for living with a smaller carbon footprint. Meanwhile, for some people, downsizing brings the freedom of the "digital nomad" lifestyle, which involves traveling full-time, often while living in an RV, tiny house, houseboat, AirBNB, or other small space.
Whether you simply want to reduce clutter in your current home or hope to relocate into a smaller home, downsizing can appear to be a daunting task at first. If you've never decluttered or downsized before, you might be overwhelmed and uncertain of where to begin. Adding to the difficulty of downsizing, the thought of parting with your favorite keepsakes can really tug at your heartstrings.
Luckily, downsizing doesn't have to be so difficult. From first time home buyers to seniors looking to move into a smaller home, here are some general downsizing tips that are helpful for anyone — including beginners:
Repurpose Sentimental Items. Can't bear to part with your wedding dress even though you know you'll never, ever wear it again? Find a crafty friend who'd be willing to help you turn it into a keepsake pillow. You might also save pieces of fabric from your wedding dress for a shadow box that you can proudly display in your home. Repurposing sentimental items not only makes them smaller so they take up less space; it also gives you a creative way to work them into your home decor rather than storing them out of sight in a closet.
Consider Your Needs. Sure, downsizing is the latest lifestyle buzzword. However, that doesn't make it a great fit for everyone. There are different ways to live the minimalist life, and most of them are much less intense than selling everything you own and moving into an off-grid camper. In many cases, simply organizing your belongings in a more efficient way can significantly reduce clutter and the anxiety that comes with it. A room-by-room strategy may work best, according to HomeAdvisor. Adding roll-out shelves like these in the kitchen and closets, utilizing vertical wall space in living and office areas, and "containerizing" in the playroom and bathroom are all tips to make your existing space and stuff feel less burdensome.
Don't Do It All Yourself. To be clear, I truly love a good Do-It-Yourself (DIY) project. However, that doesn't mean you have to do everything yourself. This is especially true when it comes to organizing and decluttering your home. You could hire a professional organizer to help you determine which items you want to keep or part with. Or, if you are downsizing in preparation for an upcoming move, you might consider hiring professional movers and packers to help ease stress. Either way, be sure to do your research and check out local prices and reviews beforehand. The bottom line is that you will reduce stress and overwhelm by asking for help when needed.
There are many benefits to downsizing and decluttering. By reducing the number of items in your home, you free up your time, effort, and finances so that you can focus on the things that really matter in your life. Eliminating any unnecessary clutter can bring you feelings of accomplishment and calm. Downsizing could be one of the most effective self-care steps you could take in reducing stress during this next chapter of your life.
Harry Cline
Author of The A-Z Home Care Handbook
Owner of http://newcaregiver.org