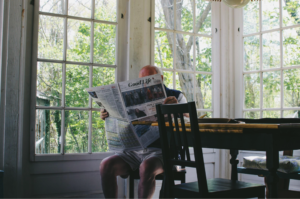 Aging in place is a more popular goal today than ever before. Approximately two-thirds of baby boomers plan to stay in their home through their golden years. The rise in long-term care costs (i.e. retirement communities, independent living, assisted living) has a lot to do with it, as do technology and available services like meal and grocery delivery.
If your goal is to maintain your independence and stay in the home where many of your memories were made, you need to think about modifying your home to ensure it stays safe and accessible. Here are some necessary home modifications for seniors who wish to age in place.
Ramps
One of the most basic changes to make to your home is installing threshold ramps. These ramps help prevent tripping and allow for easy maneuvering by scooters, wheelchairs, walkers, and foot traffic. They can be placed in the main entry, as well as over any small rises or steps throughout the home. You may want to consider having a modular entrance ramp installed. Aluminum modular ramps are lightweight and can be installed over all outdoor steps and rises.
Bathrooms
As we age, bathrooms can become the most dangerous areas of the home. It's essential to assess the risk factors in your bathroom and to be open-minded about making any necessary changes — particularly to the shower/bathtub. For instance, grab bars can make your tub safer and more accessible; they're typically inexpensive and can be installed in a few hours. Shower/bathtub chairs and benches are also relatively inexpensive, and they can go a long way in making your shower or bath safe, relaxing, and pleasant. Adding walk-in and zero-entry showers can also be a great option, though they can get quite expensive.
Doorways
While widening your doorways is not the easiest of projects, it's essential for keeping you able to move around in your home. This is especially true if you use or will use a walker, wheelchair, or other mobility aid. You may need to hire an experienced contractor to widen your doorways, as well as an electrician to relocate light switches, but you may be able to modify some doorways yourself. For instance, if there are any doorways where you don't need a door, you could remove the door, door frame, and trim to gain about four inches in width.
Floors
Many trips and falls happen because of loose carpeting and/or rugs, so you should replace any worn out carpeting or rugs. While carpeting is a comfortable option, it's important for it not to be over a one-half inch tall because a long pile can make it hard to maneuver when using a mobility aid. Cork, vinyl, rubber, linoleum, hardwood, and laminate flooring can all be good options for seniors, and each has its advantages. Try to steer clear of natural stone, ceramic/porcelain tile, area rugs, and transitions.
Cabinets
Along with making space and relocating appliances to make daily necessities in your kitchen accessible, modifying your cabinets is one of the best things you can do for aging in place. Cabinets should be easy to reach, so lowering them may be necessary (three inches for standard cabinets). Also, installing cabinet slide out shelves like these can help ensure you have easy access to the items in your cabinets. Such pull out shelves will also help you maximize storage in your lower cabinets and can significantly reduce back strain.
Modifying your home is a necessity if you plan on remaining there in your golden years. Start looking into installing ramps, widening doorways, and changing out your floors. Also, consider making vital modifications to your bathroom and cabinetry. The sooner you start planning and making changes, the more likely you'll be able to age in place safely and comfortably.
Harry Cline
Author of The A-Z Home Care Handbook
Owner of  http://newcaregiver.org